In sixth grade reading with Mrs. Palasciano the students have been reading the book Wonder. This is the story about a boy born with a facial deformity who had been entirely homeschooled until he entered middle school. The plot follows the boy and the adversities he faces.

The students are currently participating in a Wonder competition, and a portion of this competition was to create a precept, or words to live by. Enjoy some of the creations that the students made below!

Powered by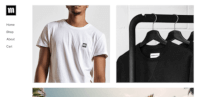 Create your own unique website with customizable templates.